Better Air Mail Service at Decreasing Cost to the Government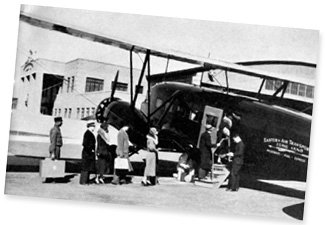 For every mile of air mail service in the United States the Government has been paying less each year, Post Office Department average payments being $1.09 a mile in 1929, 98 cents a mile in 1930, 79 cents a mile in 1931, 62 cents a mile in 1932, 54 cents a mile in 1933 and an estimated 38 cents a mile during the present fiscal year of 1934, caused by drastic reductions in appropriations.
Post Office Department payments for flying the mail do not represent a total loss to the Governmet, because it receives in turn substantial revenues from air mail postage. Postage receipts soon should exceed payments, thus returning to the Government a direct and increasing net profit from air mail operations, with greater service to the public.
The higher speed of from 150 to 200 miles an hour, steady cruising, which now distinguishes four new air liners, is made possible by refinement in design, better streamlining and more efficient engines, obtained through exacting requirements from actual experience on the air lines.
The air transport lines spend a large part of their revenues developing improved aircraft and aids to flying, such as the two-way plane and ground radio telephone, the directive radio beam for keeping the plane on the course when the pilot cannot see the beacons on the surface, the radio airport localizer for bringing the plane directly over an airport when it cannot be seen, and the radio landing beam on which a plane may glide down to a safe landing on an airport when the pilot cannot see outside.