Passenger Traffic on the Air Lines is Increasing Steadily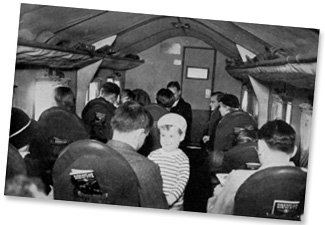 Our air lines do more flying and offer a greater public service than those of all other nations combined.
Breakfast at home and dinner in any large city half way across the country -- that is now customary among air line passengers, who find Chicago less than 5 hours from New York, St. Louis less than 9 hours from New York, Washington 6 hours from Chicago, Atlanta 6 hours from Washington, Cleveland 11 hours from Fort Worth, Buffalo less than 2 hours from New York, Los Angeles less than 6 hours from Salt Lake City, Seattle less than 7 hours from Salt Lake City, and San Francisco 19 1/2 hours from New York.
The wings of a transport plane are built and tested to withstand more than 6 times the strain that could possibly be put on them in flight. Five elephants could stand on a transport airplane wing at one time without damage to it.
The air lines in the United States have increased the number of station stops from 23 cities in 1926 to 178 at the end of 1933. They now serve communities which are trading areas for 75,000,000 persons, or 60 per cent of the population. These areas include about 90 per cent of all the manufacturing facilities in the country.
The international air transport system of the United Staes links our industrial and commercial centers with 104 cities in 32 countries to the south, and serves trading areas with an aggregate population of 86,000,000 persons outside the United States.
The air lines render a service that cannot be supplied by any other means of transportation.